At the IBM Partner Ecosystem Connect 2022 event, Synnex FPT was honored in the "Distributor of the Year" category with IBM's infrastructure solutions in 2021.
IBM's "Partner Ecosystem Connect 2022" event took place in two days (May 12 & 13) at FLC Quy Nhon. General Director of IBM Vietnam – Ms. Pham Thi Thu Diep shared about the company's long-term vision and strategy in promoting business and cooperation with Synnex FPT and its partners. The company representative said that Covid-19 is a challenge and opens a digital revolution around the world. This accelerates digital transformation on a large scale, creating growth opportunities. IBM's partners over the past year have been nimble, adaptive, and responsive to opportunities and experienced impressive growth.
" Synnex FPT has been and always is one of the important strategic partners of IBM Vietnam. Your achievements in 2021 once again confirm the leading position as well as the strong growth potential in the distribution of IBM technology products and solutions. With an impressive growth of 141.6% compared to 2020, you have done a great job in focusing on promoting the search for solutions and software and investing in the development of Whitespace customers. Once again, congratulations to all of you who have won the 'Systems Distributor of the year 2021' award "- CEO of IBM Vietnam said.
Also within the program's framework, General Director Le Vinh Thanh further affirmed: "Synnex FPT is honored to continue to receive the Best Distributor award given by IBM. Currently, technologies such as AI, automation, blockchain, Internet of Things, 5G, cloud and quantum computing, and security and privacy solutions have developed at an amazing rate and I believe We can fully take the lead together to realize growth opportunities in the coming time ."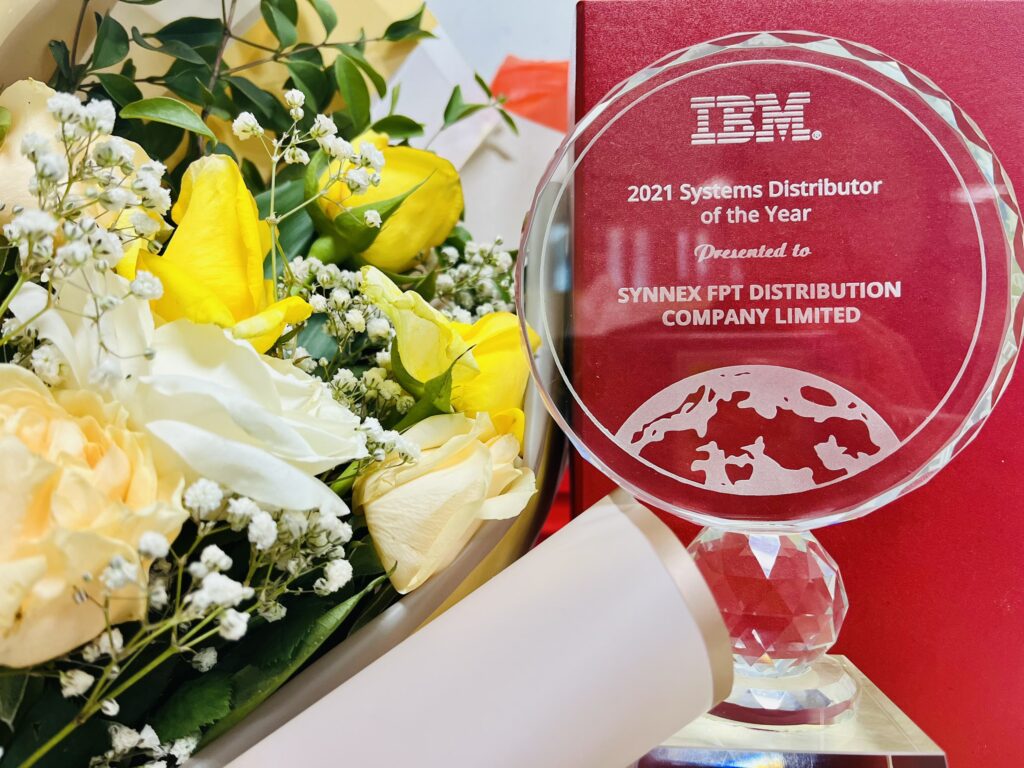 At the IBM Business Partner Appreciation night event, Synnex FPT was honored as the Distributor with the most comprehensive contribution with the award "IBM 2017 Top Performance Distributor". In 2018 received the "Top Value – Added Distributor for IBM Systems Solutions" award and in 2019 the distributor also excellently received the title "VAD of the year 2019" with solutions for technology infrastructure.
Currently, Synnex FPT distributes a full range of IBM products. Possessing a channel system of more than 3,800 agents and 8000 points of sale, optimal sales support policies and comprehensive digital management solutions, Synnex FPT has a vision for the future to become a bridge bringing more value to customers, domestic partners and users through world-class distribution services.
SOME PICTURES AT THE AWARDING EVENT: