Synnex FPT has been honored with prestigious awards for many years for distributors from prestigious partners.

2021 Top distributor Award

2021 Distributor of The Year FY21
2021 Champion of Champions (APJ)
2015 Top Distributor
2017 Top Client Solution Commercial Distributor Category
2017 Top Indochina Commercial Distributor Category
2017 Best Distributor Notebook & Desktop
2020 Best Regional Distributor of the Year (CSB Partner Award)
2020 Best Country Distributor of the Year (CSB Partner Award)
2021 APJ Channel Distributor of the Year
2021 The Best Storage + Performance Distributor
2021 The Best Client SnS Performance Distributor
2021 Global Distributor of the Year
2021 Top Storage Platform & Solutions Partner Of the Year
    2013 Top Performance
2015 Top Performance Distributor 
2017 APJ Distributor of the Year 
2017 Distributor of the year-HP Business Personal Systems 
2017 Distributor of the year-HP Printing Systems – Hardware 
2017 HPE Distributor of the year 
2018 Aruba highest Growth
2019 The Best Distributor Business Personal Systems
2019 The Best Distributor Printing Systems
2020 HPI FY2020 – Best Growth Distributor-Printing Systems
2009 ASEAN Distributor of the year for InfraStruXure Solution
2010 Golden Partner
2014 Top Performance Distributor 
2015 Top Performance Distributor 
2018 Extraordinary Contribution Award
2005 Performance award for successful market growth of Toshiba Data Projectors in Viet Nam
2010 Best year – on – year growth award 2009
2010 Most contribution to ISP 3 Million Units Notebooksales FY2010
1996 Highest Growth Award
1996 Appreciation of your contributions
2010 Appreciation Certificate
Synnex FPT provides diversified business cooperation models, suitable for each partner's products, according to strategic sales channels and targeting potential customer segments.
The agent network covers 63 provinces and cities across the country, helping Synnex FPT bring partners' products to all customer segments.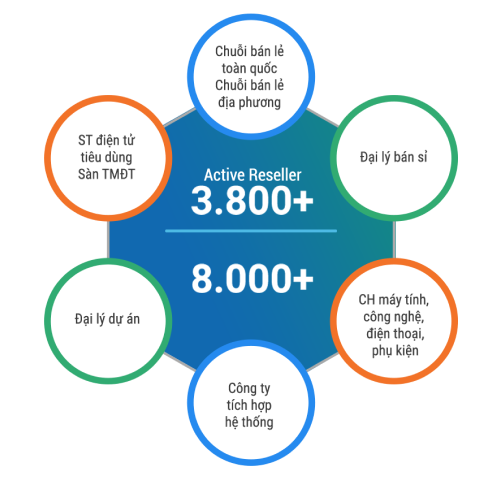 Synnex FPT has strong financial resources, supported by major domestic banks. Prestige and vision of sustainable business development are the most important things that Synnex FPT aims to.
Logistics Service Providers
With nearly 30 years of experience in Vietnam, Synnex FPT has the ability to carry out all services related to import and export such as customs clearance, conformity with regulations, delivery, import license, etc.
In addition to the large warehouse area in 4 major cities and provinces, Synnex FPT can provide goods-related services such as labeling, packing, warehousing, etc. A professional and modern goods management system helps Synnex FPT to always be ready to supply goods to the market according to the demand.
Delivery services are deployed according to customer requirements in a professional and efficient manner. Besides a team of direct delivery to customers in 4 provinces: Hanoi, DN, HCM, CT, Synnex FPT also cooperates with reputable domestic and foreign carriers to deliver goods to other provinces.
11 service centers in 9 major cities
Synnex FPT has an extensive network of warranty centers to ensure professional and efficient after-sales service. In addition to authorized warranty services of brands, Synnex FPT also provides extended warranty services, repairs of computer and telephone equipment.