On May 25 and 26, Vietnam – ASIA DX Summit 2022 took place. in this event, Synnex FPT and IBM, ones of the sponsors of the event, attended and shared about potential solution of digital transformation applied to supply chain system.
With the theme "Together for digital transformation", Vietnam – ASIA DX Summit 2022 attracted many technology specialists and respected speakers from both domestic and overseas. Also in the event, there are more than 2,000 guests who are leaders of ministries, industries, companies, organizations, over 10,000 guests who attended to the event online. The Vietnam – Asia DX Summit is considered to be one of the biggest technology events of the year up to present.
As one of the top distributors that bring solutions to the clients of both public and private sectors and one who has 30-plus-year experience in the IoT distribution industry, IBM and Synnex FPT are honored to be one of the sponsors of the event who also shared about hot topics of digital transformation solutions for the global demand and supply. From IBM Vietnam's side, the representatives are Mr. Nguyen Tuan Khang, the company's Director of software solutions and Mr. Nguyen Ngoc An, Smart application solution specialist. Synnex FPT was represented by Mr. Nguyen Ngoc Minh Huan, the company's deputy director.
Speaking during the opening of the event on May 25, Nguyen Ngoc An, Smart application solution specialist of IBM Vietnam shared, "Since its foundation in Vietnam in 1996, IBM has been pursuing the mission of building a better world with technology. This mission is realized generalized activities from solution activations for private as well as public clients, equipping them with techniques and skills according to specific industries in order to support communities in lack of basic knowledge of technology. IBM is honored to partner up with Synnex FPT in the introduction of technology which has the nature of decisive change that assists companies in achieving higher business benefits."
Also in the event, Synnex FPT's representatives are in agreement with the opinion with other companies about the situation, visions, digital transformation trends the last 2 year, what businesses have and have not achieved, and what lessons should be learnt to prepare for the next phases in the digital transformation process. Companies also shared their opinions about difficulties and obstacles during digital transformation, while also showing determination of lending a hand to the government in the digital transformation landscape in general and economic development in specific.
Mr. Nguyen Van Khoa, the president of  VINASA, said, "In Vietnam, there are up to 95% of enterprises of medium or small size. Digital transformation in enterprises in Vietnam are fast, however, the foundation and inner force are quite little. Therefore, to complete this challenging target mission of the government that is to develop digital economy development, it requires the co-operation of all levels in the politic system and economy sectors. The co-operation between ministries and ministries, departments and departments, industries and local governments, businesses and businesses, and each of these with each other will create professional programs that are oriented, open and suitable digital ecosystem which is optimized for Vietnamese organizations.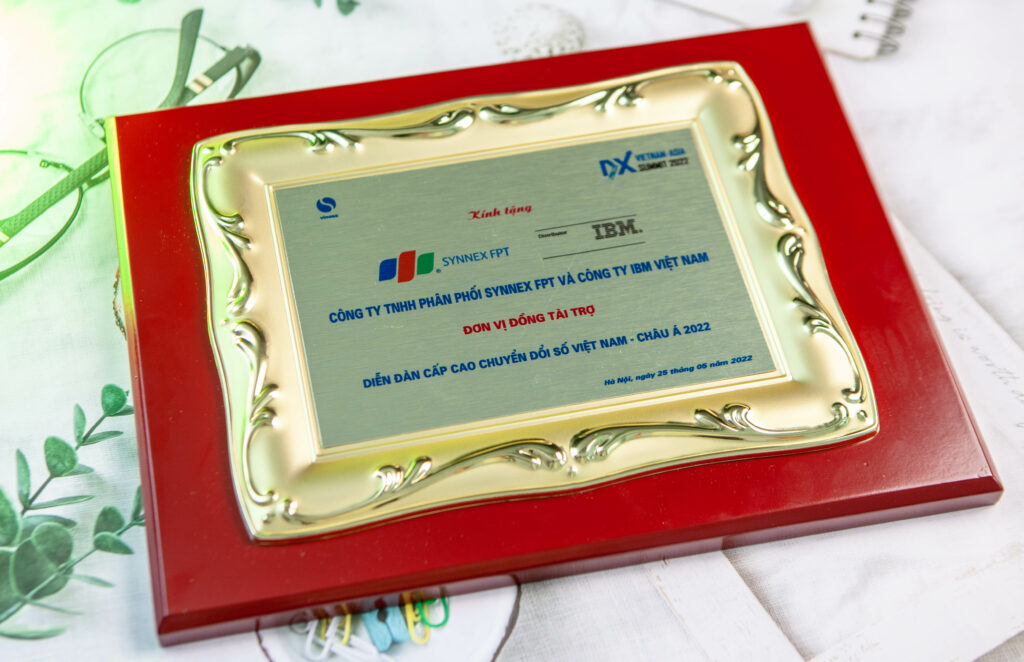 Vietnam – ASIA DX Summit 2022 was successful. This is one of the best opportunities for companies in general, IBM, and Synnex FPT to listen to and share their practical experience about digital transformation. With its ecosystem of technology products and leading specialists of the industry, IBM and Synnex FPT endeavor to bring the best experience to their clients and customers, joining hands with ministries and departments in completing overall digital transformation in a near future.
SOME PHOTOS OF IBM AND SYNNEX FPT AT Vietnam – ASIA DX Summit: