The Lenovo ThinkCentre Neo is aimed at users who are circling around business tasks thanks to its simple, neat, and eco-friendly design.
Understanding recent business trans, Lenovo just introduced a desktop computer for business. Users of home tasks will also see this is a wise choice for this computer comes with impressive configuration and features embedded within its two models, the 50s and 50t. The two provide users with various options across varied price segments.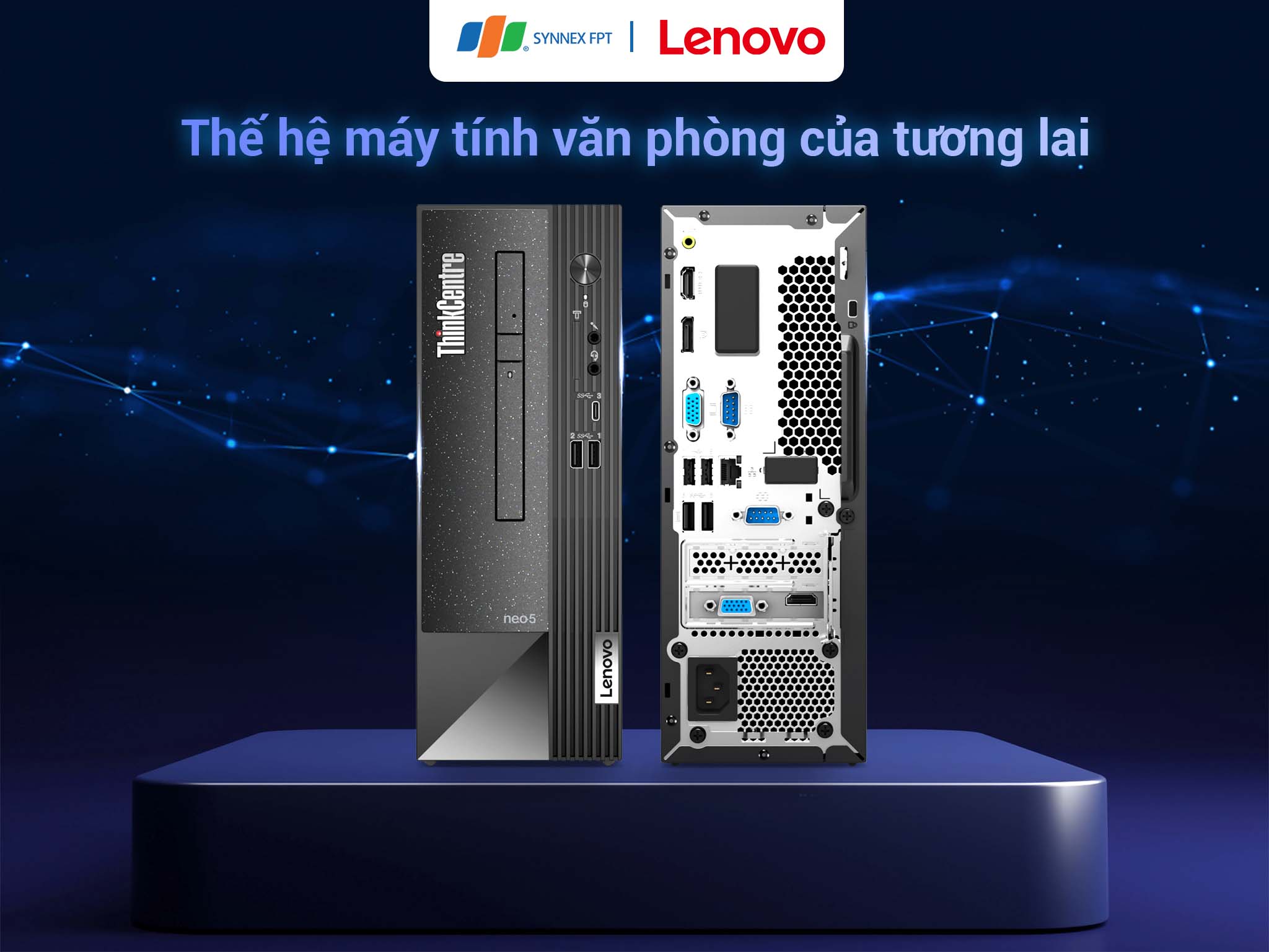 Particular, neat, and eco-friendly design
The Lenovo Think Center Neo comes in a lean design, weighing only 4.5kg for the 50s, and 5.5kg for the 50t, in an endeavor to modernize the business environment. The design for the front of the case separates distinctly with the area on the leg being a surface made up of sharp shapes of triangles, rectangulars, and squares. The area on the right contains parallel ridges running along the length of the case, adding a luxurious touch to the case. This is also where Lenovo locates its power button and ports which are 2 USB 3.2 Gen 1 ports, 1 USB-C 3.2 Gen 1 port (Support date transfer and 5V-3A charging), 1 3.5 headphone jack port, and 1 3.5 microphone jack port. Especially, the Neo 50t comes additionally with another USB-C 3.2 Gen 2 port.
The rear side of the Neo 50s hosts 2 USB 2.0, 2 USB 3.2 Gen 1 ( with one supporting SmartPower), 1 VGA port, 1 HDMI 2.1 TMDS port, 1 DisplayPort 1.4 port, 1 Ethernet (RJ-45) port, and a line-out (3.5). Meanwhile, the Neo 50t appears with up to 4 USB 2.0 ports, an HDMI 1.4 port in replacement of the HDMI 2.1 TMDS, and an added serial 9-cell port, with other ports kept intact like in the 50s.
The Lenovo ThinkCentre Neo is uniquely designed for the eco-environment advocate. The computer is manufactured with eco-friendly technology using eco-friendly materials. Notably, the packaging is eco-friendly too. Lenovo uses raw material and no painting, which guarantees energy efficiency as well as environment-friendliness. As a result, the ThinkCentre Neo has been certified by EPEAT Gold for Energy Efficiency. Additionally, with its Intelligent Cooling Engine 5.0, the system works optimally based on its workloads for which it saves more electricity as well. TÜV's certificate for Ultra-Low Noise is the more reason the business customers bet on this computer. It's simply explained that no one wants his/her attention distracted, especially users who have their machines to handle stuff related to research or writing.
Stable configurations, boundless data storage & top-notch business experience
The ThinkCentre Neo can come with up to 64GB RAM DDR4, the 12th gen Intel Core, along with the UHD Graphics 730 card. It's down to users to pick between an SSD or HDD CPU.
The price difference is insignificant. However, it should be noted that the HHD will be for users who are in high demand for data storage while the SSD is for the task-handling speed, making it run smoother and faster.
A note for everyone is the ability to expand the data storage capacity. To be specific, the HDD can be upgraded to store 2TB while the SSD could reach 1 TB. It is evident that Think Center Neo users can store data easily thanks to the options Lenovo so generously offers.
The Lenovo ThinkCentre Neo is also equipped with a dTPM 2.0 used for data encryption which will then be synchronized with ThinkShield, a plus in terms of data security. Aside from that, Meeting Manager supports timely translation, voice typing, subtitling, and a meeting note editor.
More than that, this juicy product offers 3 modes for 3 different working environments: Office, restaurant, and factory. That's proof that the Lenovo ThinkCentre Neo has more than just handling office tasks.
Then, the Neo 50t with the SSD CPU, and its activated Intel DG1 graphics card promises to accompany users in tough tasks.
The Lenovo ThinkCentre Neo is sold in pair with the premium insurance package Lenovo Premier Support: overall software and hardware support, on-the-spot guarantee, prioritized parts, full support for any concerns, and rapid response.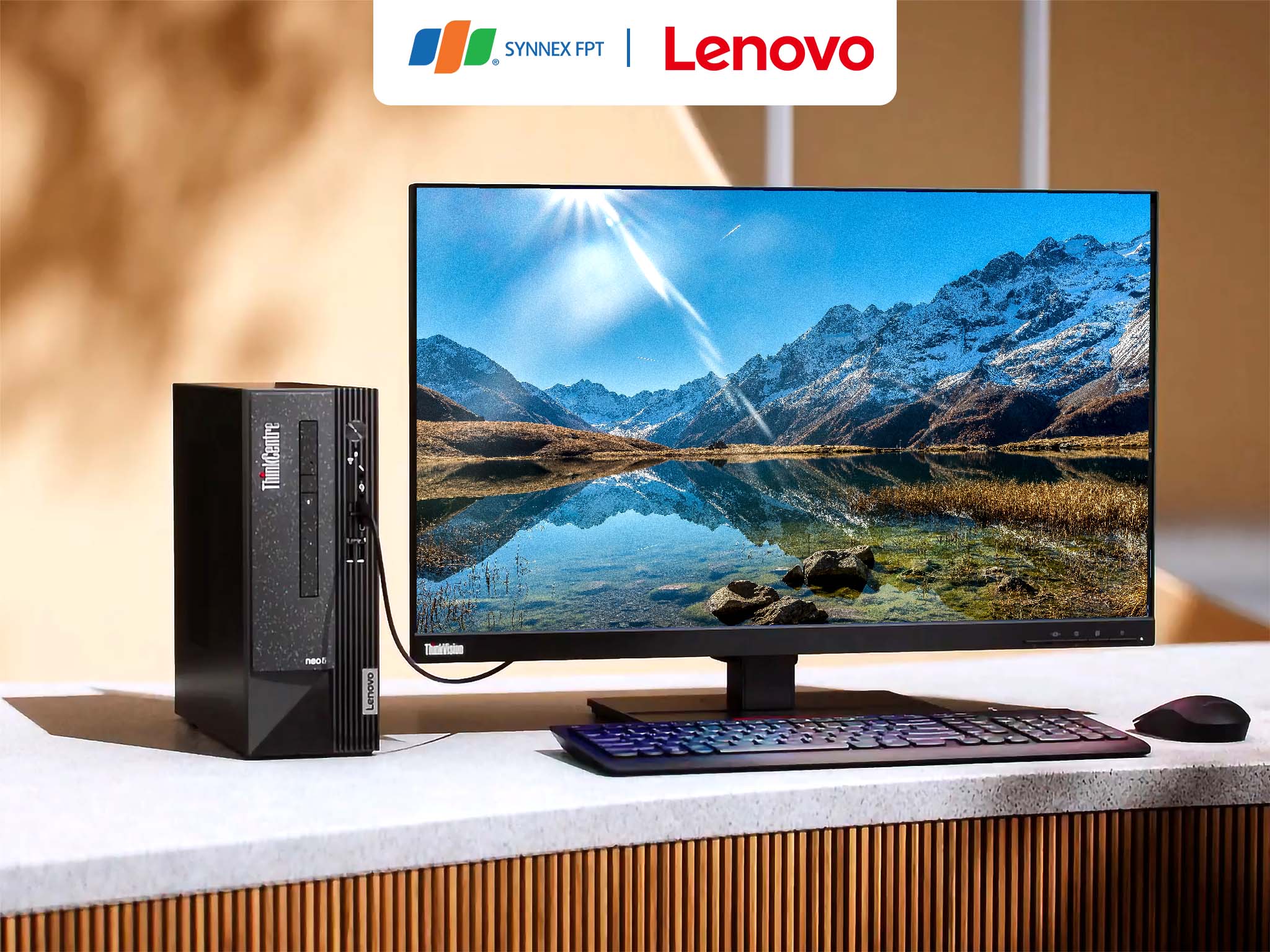 Lenovo suggested it goes with the 23.8 inch Lenovo C24 screen to form a duo which is perfect for not only office users but also home users who have a demand for studying or working from home. The Lenovo C24 provides an angle-view of 178 degrees and a resolution of 1920×1080. For that, it works perfectly well with the Lenovo ThinkCentre Neo to cater to the needs of a wide range of customers. Moreover, purchasers of the computer are given an insurance package of 3 years.
Joining the bandwagon of a hybrid working environment including office tasks and designing tasks, Lenovo leads the future trend with the release of the Lenovo ThinkCentre Neo. In the price segment of 10 million Vietnam Dong, this PC is an ideal choice for both segments of business and home users, spreading from simple tasks to demanding graphics tasks. Even more, users now can experience features that are often seen in business computers such as data security, consistency, high efficiency, energy efficiency,…
The product is distributed via Synnex FPT's stores across the country. See the full details and prices: HERE