With an impressive growth of 27%, and as a distributor for HP's full range of commercial products, Synnex FPT was honored to receive the 'Top Growth Distributor – Business Personal Systems FY22' award from the company.
HP Day Vietnam is HP's annual event to honor partners with excellent achievements in FY2022. With outstanding efforts, Synnex FPT received the award for the distributor with the best performance in the HP business computer product segment.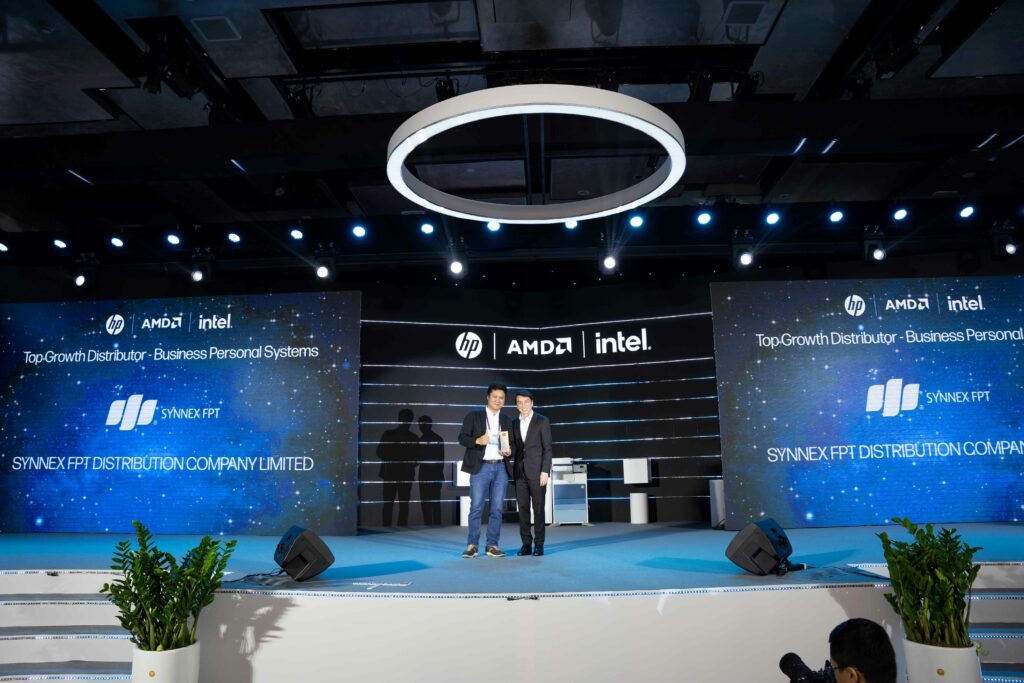 Representatives of Synnex FPT and representatives of HP Vietnam received the award
"During years of cooperation for growth and development, Synnex FPT has become the number 1 strategic partner of HP Vietnam. We are proud to continue to develop and expand the diverse HP product ecosystem, further promote the service stage, expand the sales channel, and gain trust and support from the network of partners and channels nationwide. This award once again affirms the quality of products and services provided by Synnex FPT, especially in the business computer products (BPS) segment. Synnex FPT will always continue to stand side by side with HP to provide the best value for its partners in the coming time", shared Ms. Le Thu Huong – Product Manager of SPG1.
During the event, the speakers from HP brought a lot of useful sharing with the latest technology topics such as solutions in the combined work era, work and entertainment needs, and printing for business. According to Mr. Nguyen Minh Duc (General Director of HP Vietnam), a hybrid working model will be a popular trend. Thus, businesses must provide orientations to suit the new situation, and at the same time must actively transform digitally to optimize costs. Hopefully, in the future, partners will continue to accompany HP to contribute to realizing the improvement of combined work efficiency through new-generation products.
HP's key products include business-class computers, personal-customer segment computers, and printing solutions. Up to now, Synnex FPT has always maintained its sales performance and maintained its position as the No. 1 distributor of HP in Vietnam and won many important awards of the company every year. With nearly 30 years of distribution experience in the Vietnamese market, owning a channel system of more than 3800 agents and 8000 points of sale nationwide, optimal sales support policies, and comprehensive digital management solutions, Synnex FPT aims to affirm its position as a world-class billion-dollar distribution service company.